It's time to face the facts.
While cyber attacks are nothing new, thanks to COVID-19, the threat is more real than ever.
It's common practice for cybercriminals to prey on society in times of crisis. A brief reflection on the security breaches of the 2008-2009 Financial Crisis makes this immediately apparent.
The global impact of coronavirus, as well as its implications, such as quarantine measures, a remote workforce, and the length of the pandemic, have led to attacks that are more aggressive than ever.
According to Forbes, the largest cyber attack in history is predicted to occur in the next six months.
The entire organization, including the c-suite and board of directors, need to have cyber top of mind. As shared by Kaley Childs Karaffa, Director of Board Engagement at Nasdaq, "Cyber is a full board issue for every organization."
Consider this fact: In the next month, nearly half of businesses expect to experience a data or cyber breach.
That's one in two companies. Will it be you, or your competitor?
The good news is, there are simple, cost-effective steps to protect yourself from cyber attack, especially when working from home.
To understand the threats related to your business, this article covers the following statistics related to cybercrime and COVID-19:
Bookmark this page for the latest updates in cyber security related to COVID-19.
Then, download your free cyber security checklist for action items to ensure cyber protection.
The Top 40 COVID-19 Cyber Security Statistics
As demonstrated by the cyber statistics outlined here, COVID 19's impact on businesses and technology can't be ignored.
With recent targets ranging from hospitals to private equity firms, every industry is at risk.
Statistics proving increased in cyber attacks due to COVID-19
Cyber security and the finance industry: Threats and market impact
Cyber security and remote work during the coronavirus pandemic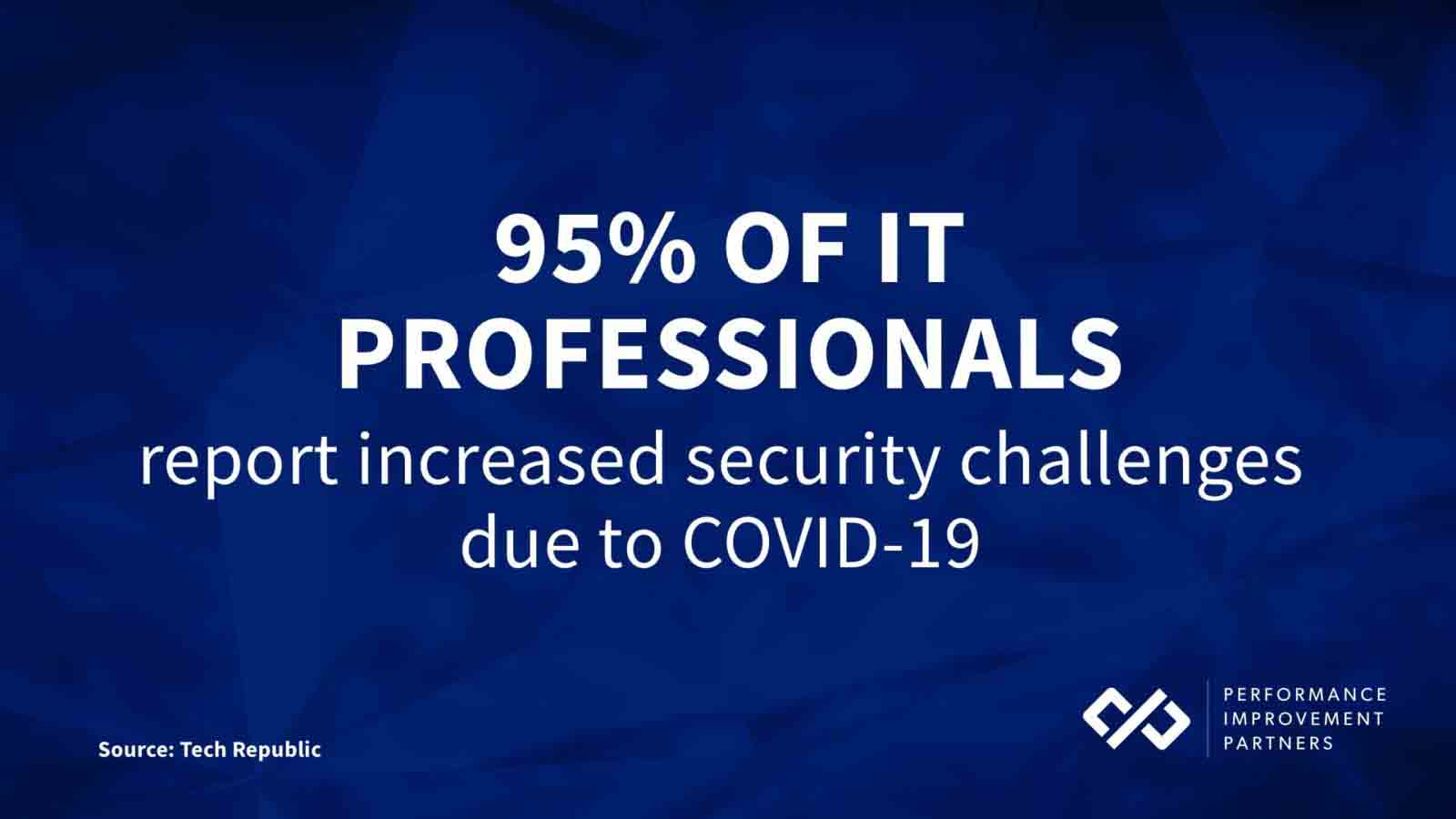 Increased email (phishing) and domain scams related to COVID-19
Cyber threats preying on coronavirus wants, needs, and fears
Cyber protection during COVID-19
For additional guidance in securing your business against cyber threat, contact Performance Improvement Partners today. With risk assessments, employee workshops, and additional cyber security services, free cyber consultations, we're here to keep you and your business safe from attack.
For our partners in Private Equity companies and their portfolios, learn how to protect your investment with a complimentary cyber security workshop.